Journalistic Career

Shah Baleeghuddin Saheb has been writing columns and articles in various national dailies of Pakistan since 1950. His columns were regularly published in daily Anjam during that period. After the closure of daily Anjam, his articles were frequently occupied the pages of magazines like Siarrah Digest and Urdu Digest. From 1985 his column is regularly published in daily Nawa e Waqt, Pakistan.

After moving to Canada in 1998, he continued his jornalistic career and started publishing a monthly magazine Paaras for the Pakistani and Indian Urdu speaking community in 2002. He headed the editorial board of the magazine from the inception till 2007, and was instrumental in making the magazine a higly valued and influential community publication.

Due to Shah saheb's excellent leadership and vision in developing the editorial policy of Paaras, it soon became a very influential and highly valued magazine in the South Asian community in USA and Canada. Notable writers, poets and columnists from USA, Canada, Pakistan and India have praised Paaras for its amazing mix of contents that included articles on Islamic history, current affairs, short stories and humour.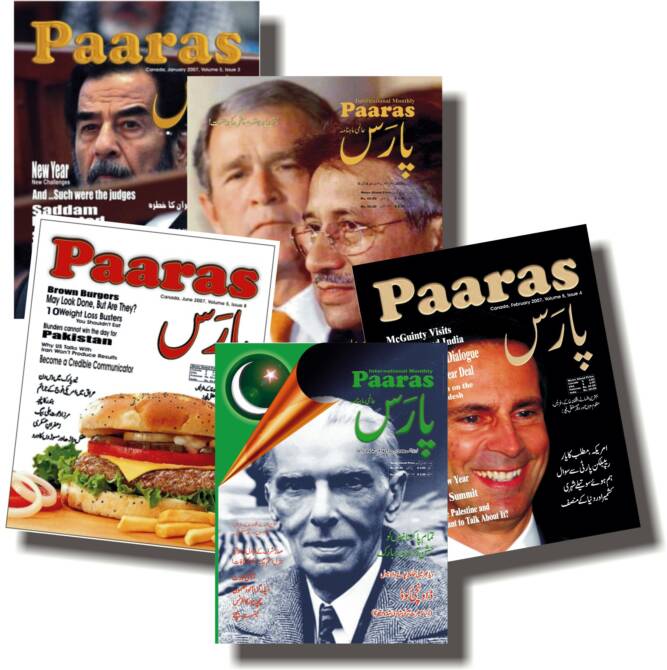 Privacy Policy    Terms of Use     Legal

Copyright © 2005 Shah Baleeghuddin Foundation. All Rights Reserved. Users of this site agree to be bound by the terms of the Universal Express Web Site Rules and Regulations.

Website Desined & hosted by Meridian Multimedia Network Inc.